I have a lot of crafting supplies. A lot. I'm a collector (voracious hoarder? You say tomato, I say tomato) by nature, and I enjoy 1) having  lots of options, 2) being able to put my hands on exactly what I'm imagining, 3) buying pretty things, 4) looking at pretty things. Add to that my tendency toward dabbling in many different crafting genres, and the end result is A LOT of supplies.
Did I mention there's a lot?
I struggled for a long while figuring out the best storage solutions for all the supplies, and I've pretty much hit on what works for me. It's a strange conglomeration of containers that resides in my closet.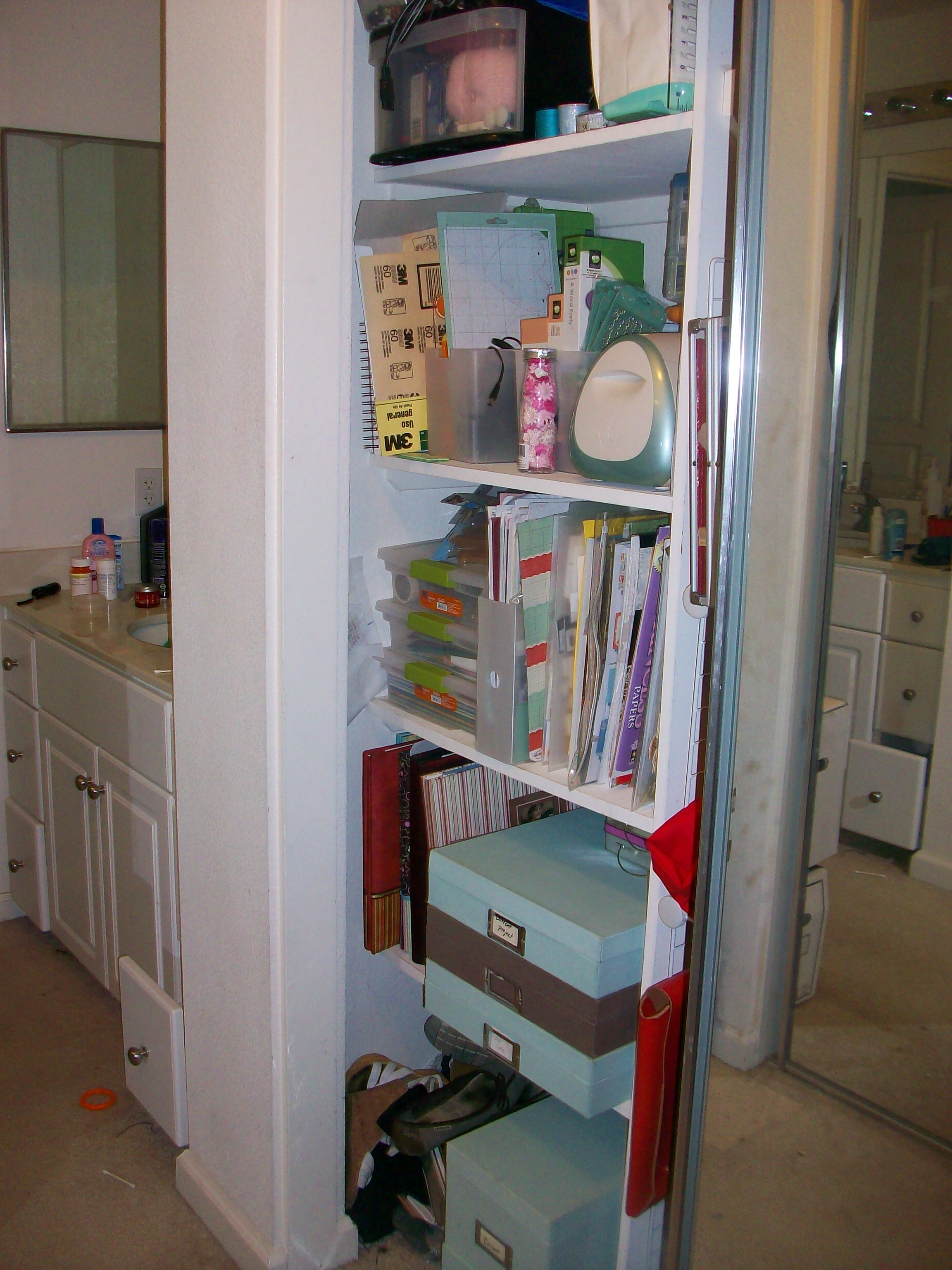 The top shelf is the sewing machine and other sewing items- yarn, crochet needles, knitting needles, yarn, thread, scissors, rotary stencils, etc.
The second shelf holds the Cricut and all related items- as well as paper cutters. And apparently sandpaper and bottle of pink paper flowers.
Third is scrapbook paper and embellishments, and that section overflows into the  fourth shelf in those lovely Martha Stewart boxes.
The ground houses all the generic supplies (glue, scissors, tape) and various inks, glimmer mists, and stencils.
And there's more in the rest of the closet – stamps, fabric, stationary, chipboard and o-wires.
(Somehow my clothes, shoes, and bags fit in there too.)
It's really nice to have everything in one place and accessible when I need it. But because it's put away and out of sight, I find I don't "need" things as often, because I get distracted by the rest of life and forget about the 17 projects I have going and the other 15 I'm thinking up.
Earlier this week I got out the sewing machine to work on a set of baby blankets I'm making for a friend who is having twins. I got almost done with one blanket and hit a rough patch, so I put it aside. But since the sewing machine was out, I decided to tackle some other projects I've been thinking about but hadn't gotten to, because it was "too much trouble to get the sewing machine out".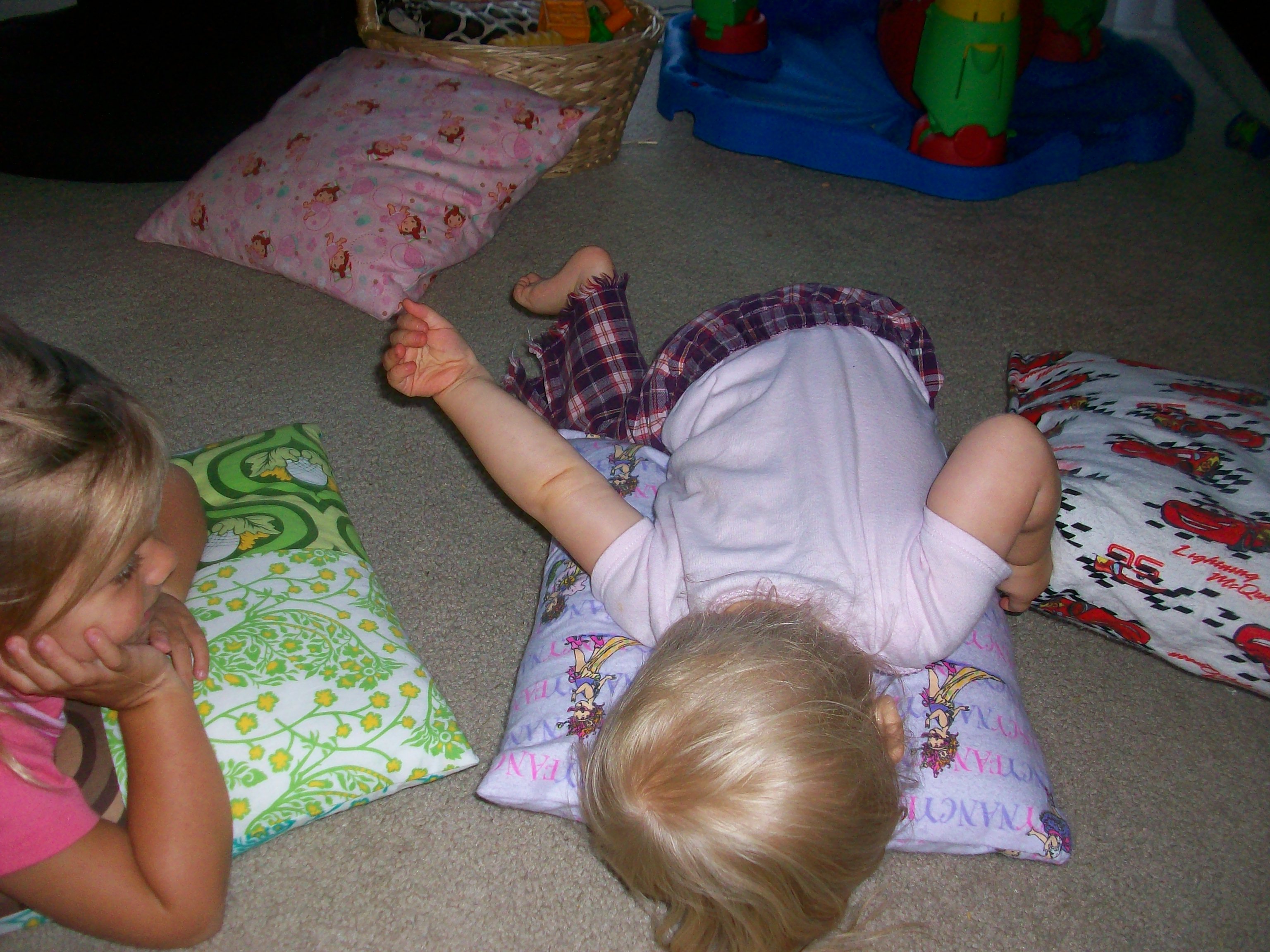 Pillows for Z and A to play their favorite game on- appropriately called "Fall on the pillow". They were later used as stepping stones: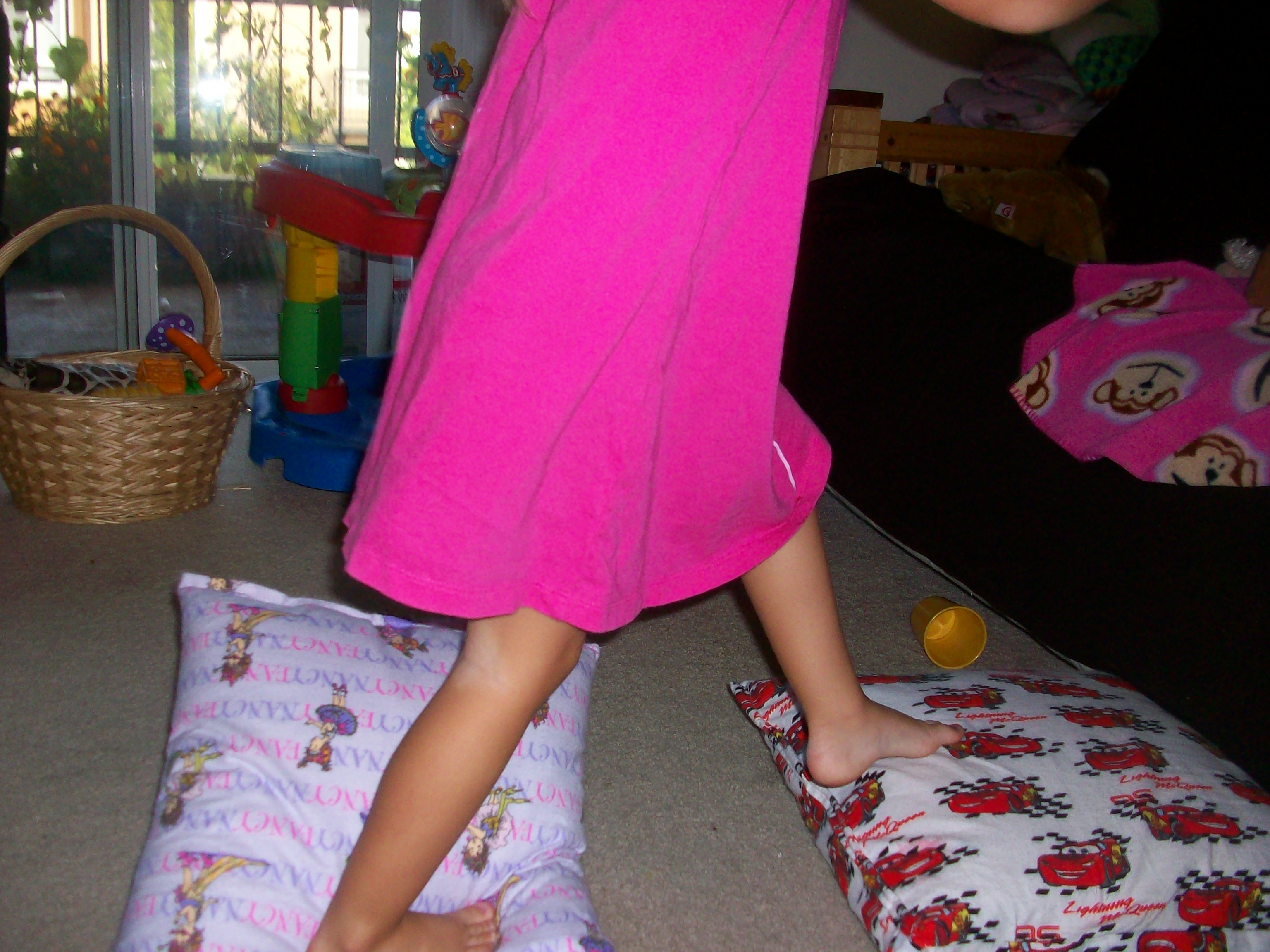 A new bag to cart A's toys to church on Sunday:
Two easy, quick projects out of the way and done, and all because the instruments to make them were out and ready. I wonder how many other projects I would magically find time for if the sewing machine (or scrapbook stuff, or knitting stuff) was always out.
I'm tempted to pick a supply and leave it out in plain sight for a week, and see what comes of it. Will you join me? Let me know what you're leaving out in the comments.