Modern Day Martha is starting a book club. We're no Oprah, but reading is one of the best ways to recharge your battery, refill your well, and a number of other apt analogies.  The trick is finding time to balance reading and the rest of life;  you know, making sure everyone in the house doesn't starve while you finish those last couple pages. So often the level of difficulty of the books we read goes down with the level of busy-ness in our lives, and while YA novels are great, sometimes a challenge is good.
So our first book is a doozy, a true "I will if you will" selection.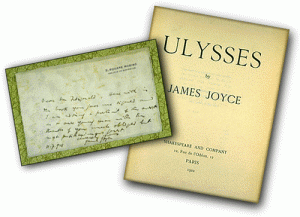 Yes.
Ulysses
by James Joyce.
You know you want to. You may be terrified, but you know you want to at least try it.
Because we're all busy, there's no time limit on this. Read a bit, and come comment on the discussion over at The Book Club.
PS. We have it on good authority that James Joyce's Ulysses: A Study
by Stuart Gilbert is very helpful in wending your way through the book.
Edited to add, James Joyce's Ulysses: Critical Essays
is actually the book that's supposed the be really helpful. The other one looks good too, though.