Halloween is big in our house. BIG. Z has declared it her favorite holiday ever since she was old enough to declare such things, and last year she had a record 5 costumes. Planning starts for the next year on Nov. 1, and it gets talked about all. year. long.
Seeing as it's October 1st, it's about time to start celebrating. Last year I picked up this adorable count-down to Halloween …thing, calendar I guess, (it's not an advent calendar, because it's not advent.), and filled it with candy.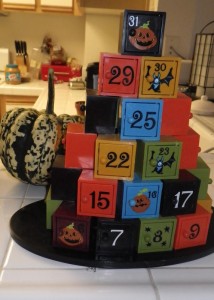 This year I wanted to step back from the candy every day idea, and instead filled it with slips of paper containing Halloween missions. They include everything from "Go to a pumpkin patch" to "read a Halloween book", and even "Find out what's inside a pumpkin". I've also included things that will need to be done for Z's annual Halloween party (which will be Z and A's party this year), like making and sending invitations, and buying things for the party.
Hopefully this will allow us to spread out the celebration, avoid a bit of the candy, and not binge on our rather massive stack of Halloween books and movies right at the beginning of the month. And since I know (it will be a surprise for the girls) that two of the days have papers that say "Get a new Halloween book" and "Get a new Halloween movie", hopefully that will keep me from buying new things all month long.
It's also inspired me to try to make a "holiday" countdown calendar that can be changed up and decorated for each holiday so that we could do the same thing for Thanksgiving, Christmas, Valentines Day, birthdays, Easter, you name it. Having a separate calendar for each holiday is a bit much, but with just one, you'd only have to store it and the decorations that went with.  Has anyone done anything like this?
And before I go, let's zoom in on this darling pumpkin, shall we?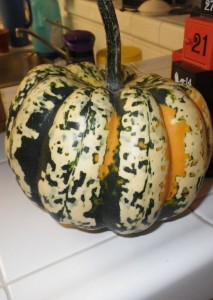 I LOVE it. Doesn't it look like it's been painted? *blissful sigh*