Always live up to your standards – by lowering them, if necessary.  ~Mignon McLaughlin
Before you read this post, take a little wander over here, and check out these posts on NieNie's blog, just so you have the context.
So. I love NieNie's idea of having a beginning of school feast, having a family theme for the year, having gorgeous decorations, celebrating the new beginning in a meaningful way.  Now that you've checked out what she's done, (you did go look, didn't you?) may I share our festivities?
To begin, Z picked out our dinner menu- a dish that she invented and named "Grilled Cheese Sandwiches with Dinosaur Chicken"; a title which, while descriptive, perhaps does not completely convey that the dinosaur chicken was grilled INSIDE the sandwich with the cheese.  They were, in her own words upon tasting them: "completely horrible!"  Luckily, our feast was rounded out by green beans and gorgeously delicious grapes that we picked up at the local produce stand, so it wasn't all bad.
We had lovely little cupcakes for desert, complete with overly sweet powdered sugar frosting and strawberries on top.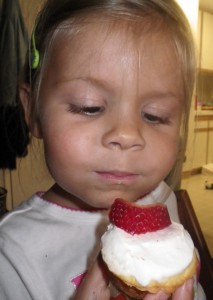 B gave the girls their school blessings after dinner, and that was that.
And you know what? It was great. It wasn't fancy, it wasn't impressive, but we had fun. The girls loved making (and eating) the cupcakes, the DinoChickenCheeseSandwiches will be laughed about for a long while to come, and the girls felt celebrated and ready to start a new year of school.
And I'm not beating myself up that it wasn't something else.